Multi-platform software development
IDC most recent data (2015) shows iOS and Android platform hold 96,7% marketshare. For the desktop devices, Windows and OS X (Mac's operating system) represents around 96,5% of the market. That's the reason why Matcao is focusing mainly on these platforms. By developing mobile apps for Android, Windows and Apple devices both iOS and OS X, you will reach a very large and expanding market. Multi-platform software development means that we can move freely between platforms, runtimes, and languages to re-align to the dynamic needs of your organisation to meet it's goal.

We create outstanding, beautiful, user-friendly applications for web, desktop and mobile devices. The keywords are stability, usability and aesthetic. Matcao do not use specific technology to all solutions, but we will choose technology most suitable for the given project. We create custom software for any platform, including PHP, .NET, iOS, Android and all web technologies. Our engineers and designers take good care of your business intelligence.

Custom software development process
Custom software development at Matcao is about delivering exceptional beautiful products that emphasise the purpose of your business. Our team of designers and developers are dedicated experts, who will follow you in every single steps in the process of development to bring simplicity to your most complex ideas and issues. We values creative thinking and exceptional craftsmanship in programmning and problem solving – and that shows in our products.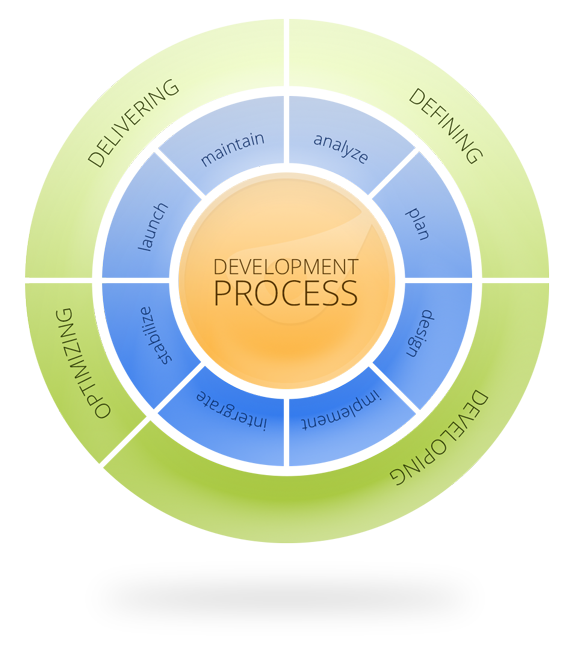 DEFINING
You probably already have some ideas and thoughts about your software or maybe even a full specification requirement document on your own. first step, we will go through whatever you have and analyze the requirements together to make sure we get the best combination of your ambitions and visions with our software engineering expertise. This is also the part of the process we do a rough schedule for the rest of the process and what to expect both timeframe og cost.
DEVELOPING
While the importance of great software architecture and backend-code is a matter of course, we won't be bothering you with underlying technology. What we will be focusing on with you is the design process, usability and user interface of the software. We believe that the main reason to a software's success is a piece of art that the end-users are delighted to use for whatever purpose it's designed for. This part of the process is about designing the software, build it, test it, do it all over again until we love it.
OPTIMIZING
We already optimizing during the development process, but before we go public with your software, we will run a thorough optimizing process to assure everything is smooth and captivating to the end-users. The great piece of software is beautiful, stabile, light, effective, playful and gives an extremely smooth user-experience.
DELIVERING
When we all love the piece, it's ready to deliver it. That means to make sure you get a spectacular launch and we can drink the champagne and celebrate it together. This process also includes being accessible for further service and being available for support. We all know that the end-users of the software knows best what works perfectly and what is to improve.

What We Offer
Matcao offers start-up, mid-market and enterprise customers a complete range of services in multi-platform software development, visual identity and graphic design.
Office Hours
| | |
| --- | --- |
| Monday | 9:30 - 18:00 |
| Tuesday | 9:30 - 18:00 |
| Wednesday | 9:30 - 18:00 |
| Thursday | 9:30 - 18:00 |
| Friday | 9:30 - 18:00 |
Pages